Biography
Edit
Goblue Son is a 13 year old half saiyan born on earth. He is the son of Gohan and the Grandson of Goku. He is very skilled in swordsmanship and wears clothing very similar to his fathers but blue. He was trained by his grandfather Goku,Uncle Goten, and

Father Gohan.
Appearance
Edit
Goblue wears Dark Blue and Light Blue clothing extremely similar to his fathers.
Relations
Edit
Father - Gohan
Mother - Videl
Grandfather - Goku
Grandmother - Chi-Chi
Grandfather - Mr.Satan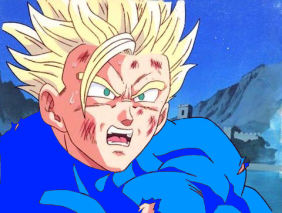 Grandmother - Unknown
Uncle - Goten
Brother - Tranx
Brother - Gokan
Sister - Pan
Best friend - Runks
Friend - Dro
Techniques
Edit
Galick Gun
Galick Gum
Transformations
Edit
Great Ape
failed fusion with Tranx Trablue

What if Fusions
Edit
Gotrau (Portal)
Gobak (Portal)
Ad blocker interference detected!
Wikia is a free-to-use site that makes money from advertising. We have a modified experience for viewers using ad blockers

Wikia is not accessible if you've made further modifications. Remove the custom ad blocker rule(s) and the page will load as expected.